The Edit Page toolbar has a number of sections. From top to bottom find them described below.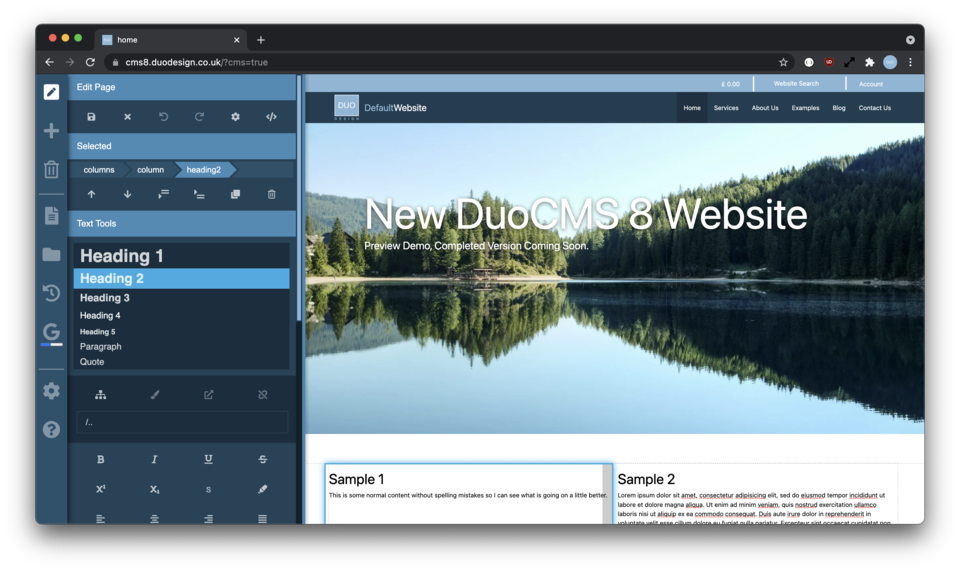 The first toolbar has 6 icons, these are
Save

Close without Saving

Undo

Redo

Page Settings (for just this page)

HTML Mode

Selected
This toolbar allows you to select and manipulate various elements on the pages.
The breadcrumb style bar (show right as 'columns' 'column' 'heading') allows you to select the parent elements of the item you have selected.
Once selected the tools below will peform an action on that item. Those tools are
Move element up

Move element down

Add space below element

Add space above element

Duplicate element

Delete Element
Text Tools
This toolbar appears whenever your cursor is inside some text. Unlike the previous 2 toolbars, this one will vanish if a non-text element is selected, replaced by a toolbar specific to that element (eg selecting and image will show the image toolbar)
The text toolbar has the following features
Text Type (heading, paragraph etc)

Link tools

Link Picker

Style Picker

Open in new tab toggle

Remove link

Text formatting

Bold

Italic

Underline

Strikethrough

Superscript

Subscript

Small

Highlighted

Justify left

Center text

Justify right

Full Justify

Bullet list

Numbered List

Indent Text

Unindent Text
Media Elements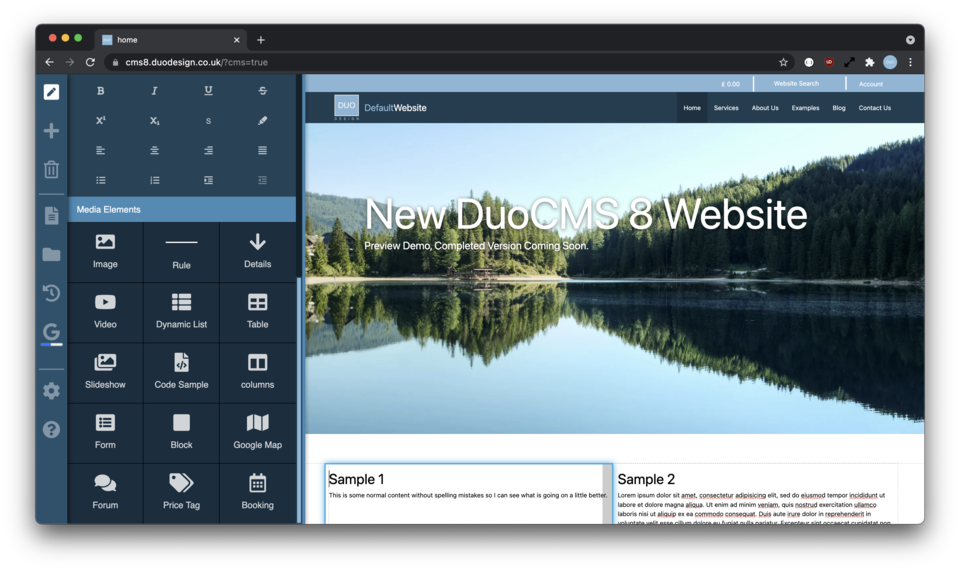 At the bottom of the toolbar is a section named Media Elements. These are all features which can be dragged and dropped into the page to add specific features. Not all of these will be present on every website. Once dropped into the page, selecting any of these will change the text tools toolbar to one appropriate for that element.
Image

Horizontal Rule

Details popup

Insert Video ( from youtube or vimeo )

Dynamic lists

Tables

Slideshows

Code Samples

Columns

Forms

Blocks ( for styling )

Google Maps

Forums

Pricetags ( for ecommerce )

Booking Calendars ( for room bookings )